Current & Past Events.
There's always something new happening at the WIFS NYC Chapter.
So be sure to check back regularly, and join our email list to stay up-to-date.
---
January 8, 2019  6:30 PM
March 28, 2019   4:30 PM

Reinventing Yourself & Your Life!
LEARN &  INTERACT with Noreen Sumpter, our keynote speaker. Noreen is the founder of Live Life Your Way, where she works with men and women to find their power and live powerfully. Her passion for personal growth and development inspires others to Own Their Voice, Speak Their Truth and Live Life Their Way.
Click here to register and learn more!
————————————————————————————————————————————————————————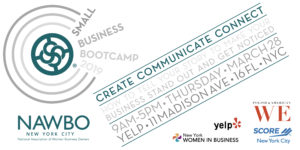 March 28th, 9 AM – 5 PM
NAWBO NYC invites you to our annual Small Business Bootcamp on Thursday, March 28, 2019. Join us for a day of networking, interactive discussions, and hands-on workshops focused on how to make your business stand out and get noticed.
Click here to register & learn more!
—————————————————————

January 24th  8:15 AM – 12 PM
Impostor syndrome is a dirty little secret that many high achievers share. Deep down they may feel like complete frauds. They may believe their accomplishments happened because of luck or that they are a failure despite evidence of their abilities and success.
The good news is that impostor syndrome is a feeling, not a life sentence and it can be changed and altered! Learn strategies you can use every day to pivot away from impostor syndrome and live the life you want.
Join Now.
WIFS is committed to our mission to attract, develop, and advance the careers of women in the insurance and financial services industry. Join the NYC Chapter today to gain access to our wonderful member benefits.
Membership application