Current & Past Events.
There's always something new happening at the WIFS NYC Chapter.
So be sure to check back regularly, and join our email list to stay up-to-date.
---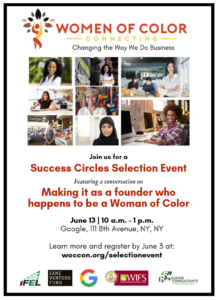 WOCCON Success Circle Summit
Women of Color Connecting!
We are changing the way we do business and invite you to be a part of the conversation.
Join us for a "Success Circles Selection Event" to hear and learn from a panel of experts on making it as a founder who happens to be a woman of color.
Click here to register and learn more!
---
April 30, 2019  12PM
April 11, 2019  6PM
March 28, 2019 9AM
March 28, 2019   4:30 PM
January 24, 2019 8:15AM
January 8, 2019  6:30 PM
Join Now.
WIFS is committed to our mission to attract, develop, and advance the careers of women in the insurance and financial services industry. Join the NYC Chapter today to gain access to our wonderful member benefits.
Membership application